Q&A
10 Questions with Peter Kim
Peter seeks to lead the next generation into a life of joyfully following Jesus.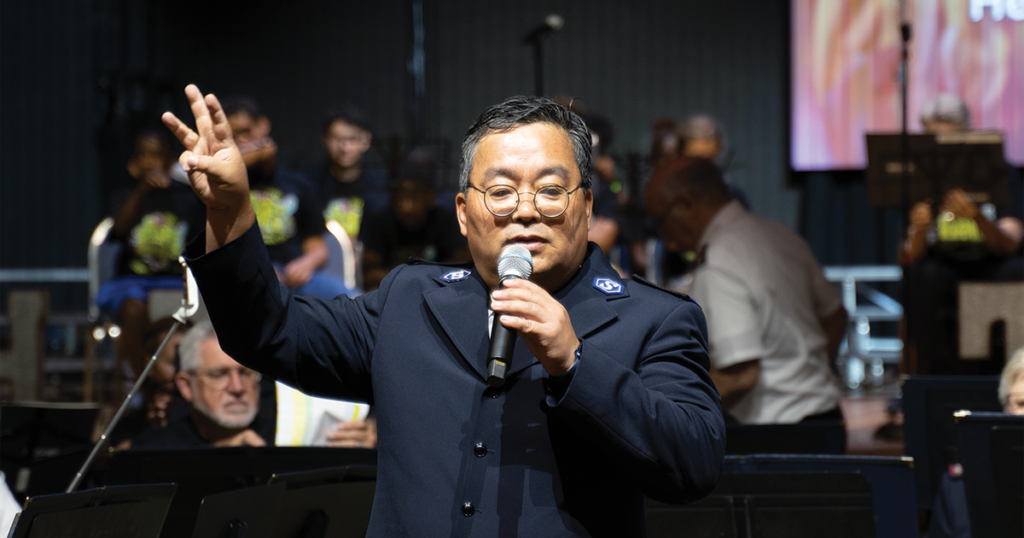 Bandmaster Peter Kim, affectionately known as BMK by countless students whom he has taught and discipled, is the music and creative arts director for the North and Central Illinois division. Now a soldier at Peoria Citadel corps, Peter's reach extends far beyond the corps. He has led many innovative music and gospel arts programs, including regional and divisional music schools and "Let the Music Begin," a program which takes Salvation Army music instruction and leadership into public schools. In all his roles, and as a father to three children, Peter seeks to lead the next generation into a life of joyfully following Jesus.
01. What is your role in the Army?
I am the divisional music and creative arts director for the newly formed North and Central Illinois division in the Central territory.
02. Who has had the greatest influence on your leadership?
There are too many to mention but besides my Savior Jesus Christ, it would have to be my father, Colonel Paul Kim (R), who has taught me how to serve others through leadership.  Fearless pioneering spirit of taking action for Christ, at any time, was the best leadership characteristic that I've learned and attained.
03. What are your hobbies? What do you do for fun?
I love fishing and golfing. These two are favorite hobbies that are difficult to do during the regular year due to time constraints, but I look forward to enjoying them during summer music camp. I get to meet and fellowship with music campers through fishing, and I also get to enjoy the super early morning faculty fellowship.
04. What are you most proud of?
Answering the calling to full-time music ministry. I was a corps music leader since I was 18 serving the internal TSA music programs and then, in 2006, God burdened with calling for full-time music ministry to reach out to the community. I took a step of faith and did so by selling my house and business to enter the ministry. It was a difficult decision to make; however, the Lord, through every step of my path, has guided and assured me with clear vision and mission for last 16 years.
05. What is your favorite book of the Bible to study and how has it impacted you?
I love the book of Acts and all the action. Although Acts ends with chapter 28, I love the idea of continuing chapter 29 and beyond as we, Christ followers, continue to take actions for Him.
06. How do you nurture your spiritual life as a busy leader?
The routine of starting the morning with QT (quiet time) of reading the Word and praying and closing the day with nighttime reflection keeps me in even keel and not losing the sight of vision and mission.
07. What are you currently reading?
"Life of the Beloved: Spiritual Living in a Secular World" by Henri Nouwen. Taken-Blessed-Broken-Given concept has driven my faith walk lately.
08. What is your definition of leadership and how was it formed?
My definition of leadership is to lead by taking feverous action for Christ without hesitation. Again, I refer to my father, Colonel Paul Kim, who made fearless and courageous decisions to expand His Kingdom.
09. What has been one of your greatest joys as a leader?
To see and hear about the students, from the music ministry, come to Christ and, also, some of them becoming music leaders and teachers to duplicate the same ministry.
10. What are your hopes/goals for the future?
Acts 1:8 tells us to be His witnesses to the ends of the earth. I believe "the ends of the earth" is where you are and where you are, now, has be the greatest mission field until God tells you otherwise. The United States, who still sends most missionaries to the world, is desperately in need of the missionaries right now, ironically. More and more people in the U.S. need the good news of Jesus Christ. My hope, goal, mission, and vision are to do that through music ministry; and with the power of the Holy Spirit.