Feature
Cadet Testimony: Bailey Lind
"Jesus is who I praised yesterday, today and will praise for the days to come."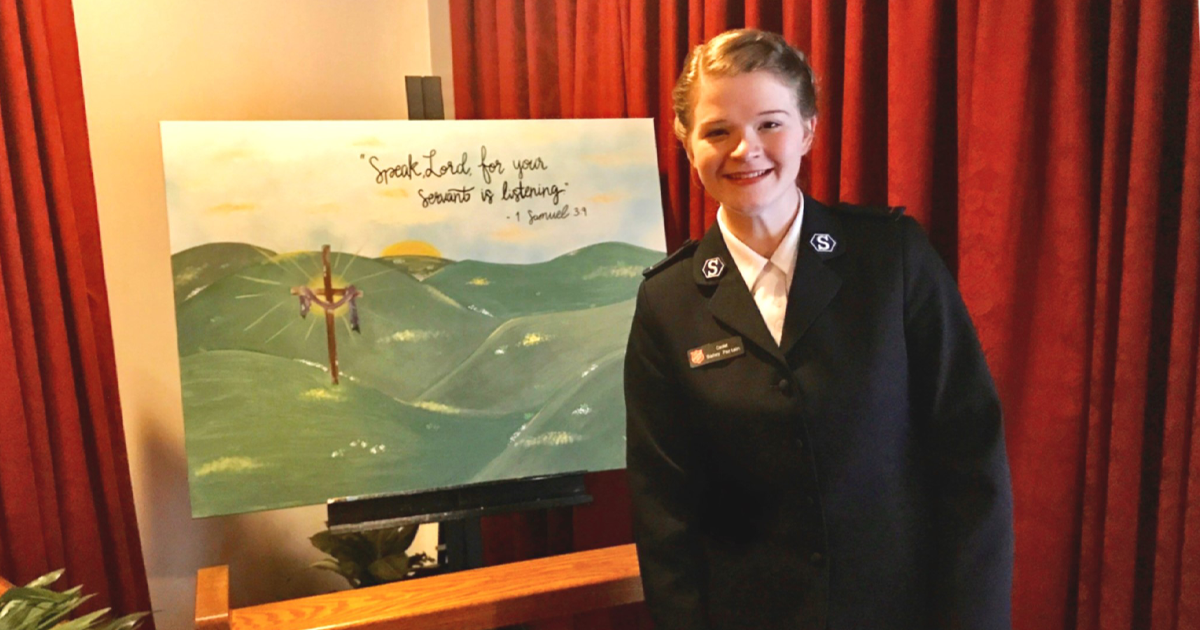 As a young girl, I grew up in a home that wasn't centered around Jesus. So, I never really knew who Jesus was until I was 9 years old. Ever since I could remember, art was something that God had gifted me with. What I didn't know was how impactful and life changing art would be in the years ahead. At the age of 9, my mother enrolled my brother and me in The Salvation Army Boys and Girls Clubs Summer Day Camp. This would soon become a place that would mold, shape and build me into the young lady that I was supposed to be. I gave my life to Christ one summer here and my relationship with Jesus began.
As years passed, I made friends. I began going to the Corps next door, and this place felt like home away from home. With my parents' permission, I attended church almost every Wednesday and Sunday for almost six years. I was active in the corps and even became a Sunbeam, a Junior Solider and eventually a Senior Soldier. I felt welcomed here, and God knew that I needed a comforting place and a place that had a ground that wouldn't crumble.
At the age of 16, things in my life started to go downhill. My parents, who had been married for 20 years, had gotten a divorced and nothing ever seemed to be in place after that. My grandma had been diagnosed with breast cancer that was incredibly harsh and she eventually went home to be with Jesus. My grandma, even today, is someone I admire and honor greatly. She was a woman that was wise, beautiful and gentle. Her passing impacted my life, and her belief in me and my artistic abilities was like no other. She was my number one supporter. Her support in my ability of art has made me who I am today, and I will cherish that until I go to glory.
As my life seemed to move on, I wrestled with the calling that God had given me during the darkest moments in my life to be a Salvation Army Officer or to pursue an art career. I wrestled with this for years and didn't understand why God would give me such a gift yet call me to be an Officer in at the same time. I asked Him how I could use such a gift. I was mad to say the least and was confused and my heart had been torn into what felt like two. God has a way of affirming things time after time again. His plan for my life is unshakable, and I knew in my heart that by accepting the call, He would glorify the gift that He had given me for His honor and praise.
When life gets me down, art is where I gravitate to, and I use my creativity to give Him all the glory, honor and praise. A few years ago, my life seemed to stop when I got a phone call while I was at camp to hear the words, "Dad is in jail." These were words that I never wanted to hear and words that I never wanted to believe. My dad was sent away for a year and a half, and his impact on my life is something that I cherish. The first time I went to see him, I broke down and wanted to be strong for him and I believe he knew that. He looked at me and pointed at the pocket on his shirt. He reached into his pocket and pulled out a small wooden cross and I knew in that moment that Jesus needs to be reached to everyone.
No one is cut off from hearing the sweet words of Jesus. God has worked in my life, and through His mighty works has allowed me to share the gospel with my family who may not have ever heard it otherwise. John 8:12 says:
"Jesus spoke to the people once more and said, 'I am the light of the world. If you follow me, you won't have to walk in darkness, because you will have the light that leads to life.'"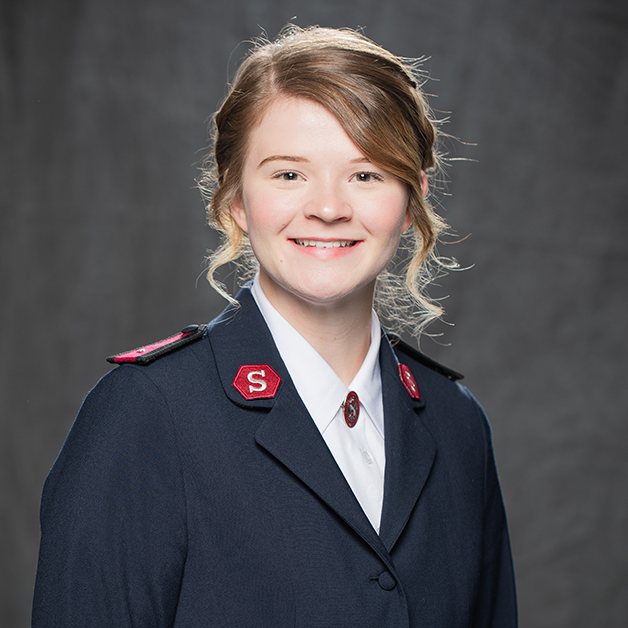 Today, Jesus is my light in the darkness. He was my light through the divorce of my parents, my grandma's passing, my gift of art, my calling to be a Salvation Army Officer and when I heard the news that my dad had been arrested. Through the light of Jesus, I was given light to spread to my family and all that I come into contact with. His light shines through my art, and His light will shine through my Officership. Jesus is who I praised yesterday, today and will praise for the days to come.
In June 2020, Bailey Lind was commissioned as lieutenant in The Salvation Army. She now serves as the Kroc Center Officer for Congregational Life at The Salvation Army Ray and Joan Kroc Corps Community Center of Memphis.