Frontlines
Countdown to Christmas Begins in New York City With World's Biggest-Ever Red Kettle
"The world's biggest-ever fundraising Red Kettle has been set up in the internationally-famous Times Square, to raise awareness of the biggest-ever need."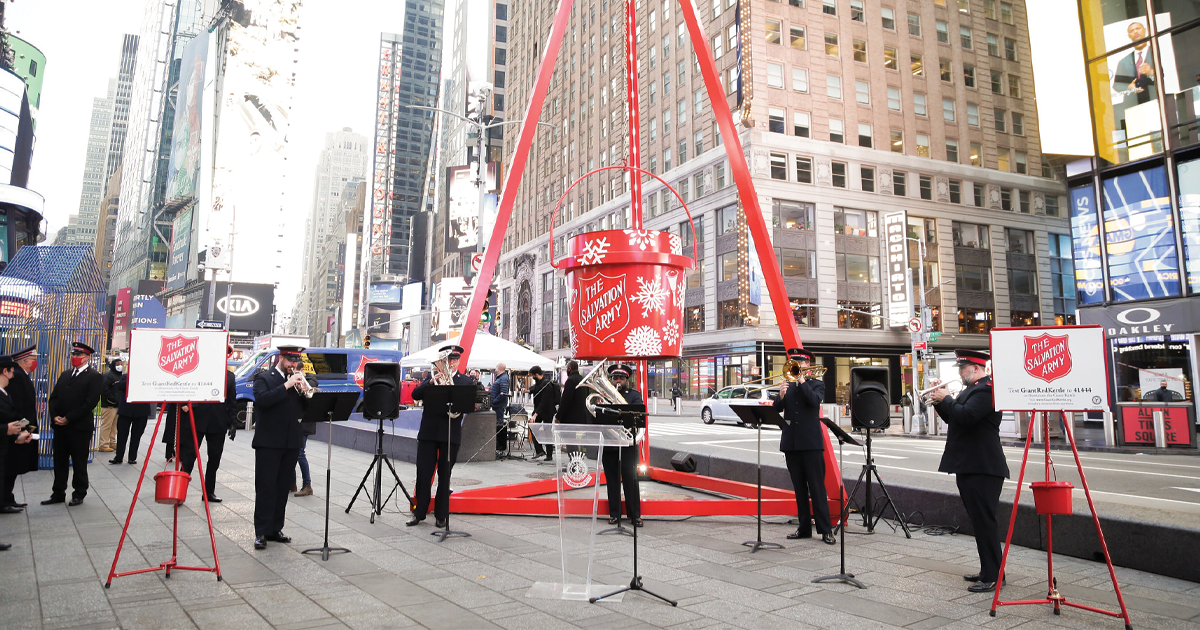 Red Kettles collecting money for The Salvation Army's year-round provision of diverse social services are a familiar sight across the USA and several other countries in the run-up to Christmas. This year, with significantly increased demand for services but reduced footfall because of COVID-19, 'the challenge is greater than ever before' according to Lieut-Colonel Ricardo Fernandez, The Salvation Army's Divisional Commander in New York City. And so the world's biggest-ever fundraising Red Kettle has been set up in the internationally-famous Times Square, in order to raise awareness of the biggest-ever need.    
In Greater New York alone, The Salvation Army has provided more than 6.3 million meals to those in need since COVID-19 hit. The movement operates more than 100 community programmes in the region. New Yorkers are experiencing severe food insecurity and unprecedented need, requiring emergency housing and help with utility bills, rent, and mortgage payments. Potential demand over the Christmas period could peak at up to 155 per cent compared with previous years, which is in the context of a projected 50 per cent decrease in donations if the reliance on previously tried-and-tested means is unchanged.
To address the stark fundraising need, The Salvation Army has installed a giant Red Kettle which is 7' 6" (2.2m) high, hanging from a stand measuring 32' tall and 16' wide (9.75m by 4.88m). The eye-catching design includes built-in LED lights that illuminate and sparkle, and offers interactivity with a text-to-donate feature triggering lights and ringing bell sounds which are synonymous with Red Kettle collections in the USA. The dazzling kettle was 'designed to amaze passers-by and literally stop them in their tracks to make a donation,' says the divisional commander. The Kettle will be staffed with 24-hour security and local Salvation Army officers with a traditional kettle for cash donations and to answer questions. All activity around the kettle will strictly adhere to New York City's prevailing COVID-19 safety regulations.
'The Salvation Army has one mission: to do the most good every single day,' explains Lieut-Colonel Fernandez. 'We are placing our Giant Red Kettle in the middle of Times Square as a beacon while we help feed, shelter and provide a merry Christmas to thousands of New Yorkers struck hard by COVID-19. This will be a new tradition to bring hope and to help those in need.' In order to maximise visibility, the Giant Red Kettle will also visit other locations in New York City during the countdown to Christmas, from the Meatpacking District to Madison Square Park.
INTERNATIONALLY
The Salvation Army continues to serve in more than 130 countries this December, with most also experiencing significantly increased demand because of the effects of the pandemic. With the run-up to Christmas being a crucial period for both delivering essential care for those in need and in terms of fundraising, The Salvation Army is adapting and innovating in numerous ways. The life-giving gospel message of Christmas is also pivotal to all The Salvation Army does.
In New Zealand, people are being encouraged to bake cakes and other treats for their friends, family and members of the community. Baking supplies companies Edmonds and Chelsea are supporting The Salvation Army by donating NZ$10 for every photo of baked goods tagged with their social media accounts, up to NZ$20,000.
In Canada and the United Kingdom, first-class Christmas concerts have been recorded in a biosecure manner, in order to share the narrative of Jesus' birth and bring Christmas cheer through music, song and selected readings. The UK event will be premiered on YouTube on 2 December before being broadcast across the BBC Local Radio network, bringing the Christmas story to millions of listeners.

The Salvation Army in The Netherlands is producing 'Alternative Advent' broadcasts, co-presented by a well-known Dutch TV star. These programmes share Bible reflections through contemporary and traditional music, and also offer stories of hope from The Salvation Army's social services centres across the country.

And in Romania, The Salvation Army has taken its Angel Tree initiative online, encouraging supporters to make use of e-commerce (socially distanced) shopping portals to buy toys, clothes and other meaningful gifts for children in need in cities from Bucharest to Buzău.
All these initiatives and more will be featured in shareable Countdown to Christmas social media posts during Advent 2020, which will be published on The Salvation Army's international headquarters Facebook, Twitter and Instagram channels with the hashtag #CountdownToChristmas.  
This article was originally published by The Salvation Army IHQ.