Frontlines
Hallmarks of Emergency Services
"The reality of a disaster…reminds us that the work we are doing is not for us, but for God."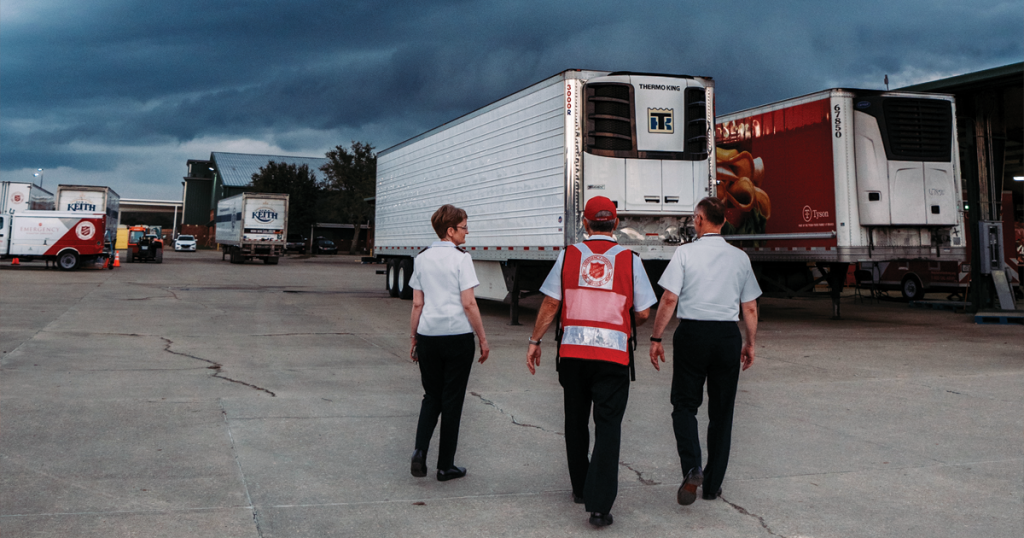 The disasters that have ripped through the country over the last six months have been debilitating and sometimes tragic, and not for the victims alone. The scope leaves many sensing a loss of control, that society is at the mercy of unrelenting and overwhelming forces.
Human beings tend to universalize problems to the point that they appear insurmountable. The best way to respond is to do something where you are, to impact local realities as a way of strumming the strings of hope so that they reverberate through the connections that define our common humanity.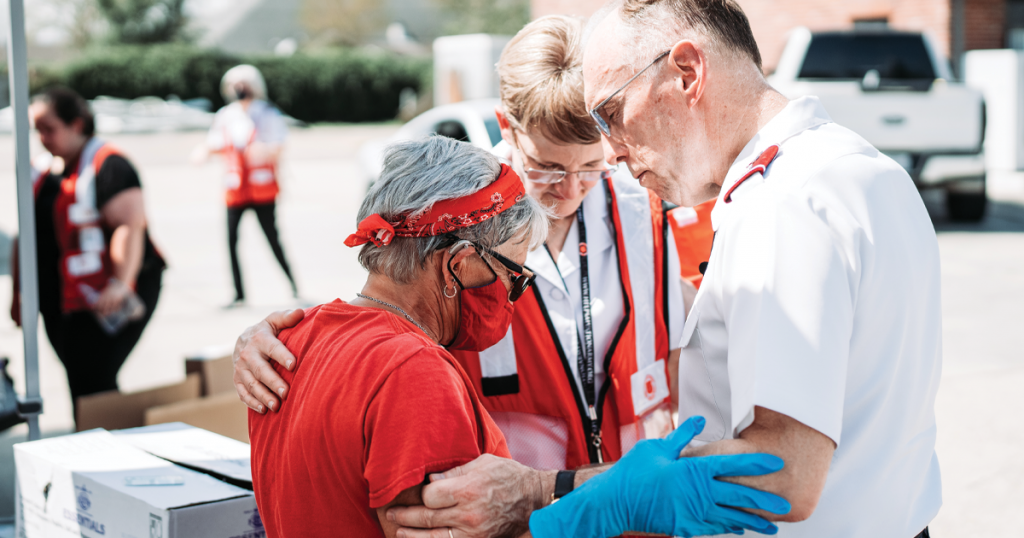 To accomplish this requires much planning, preparation and logistical expertise. To carry out emergency response so it embodies the Army's mission to care for the whole person, body, mind and spirit, requires commitment and heart. The fact that the Army is on the ground in every zip code in the country makes it possible to embed emergency response before disaster strikes and to apply relief according to local needs and circumstances.
Another crucial component is the ability to work with agencies, non-profits, government representatives and private partners to coordinate efforts for the best outcome and channel grants and donations where needed most. A case in point is the $10 million grant from Lilly Endowment Inc., to support long-term recovery from Louisiana to New England after Hurricane Ida and in 10 Western states due to massive wildfires. Lilly Endowment has a 70-year track record of supporting Army programs and emergency response. This partnership is one example of the many partnerships formed with businesses and organizations, large and small. The grant helps thousands of families get back into their homes and find stability while meeting immediate need for food, clean water, safe shelter and hygiene supplies. A hallmark of emergency services is the shift to long-term recovery, which includes financial assistance, continued distribution of supplies and disaster case management.
The depth and breadth of emergency response over the last six months provides examples of this multi-pronged approach.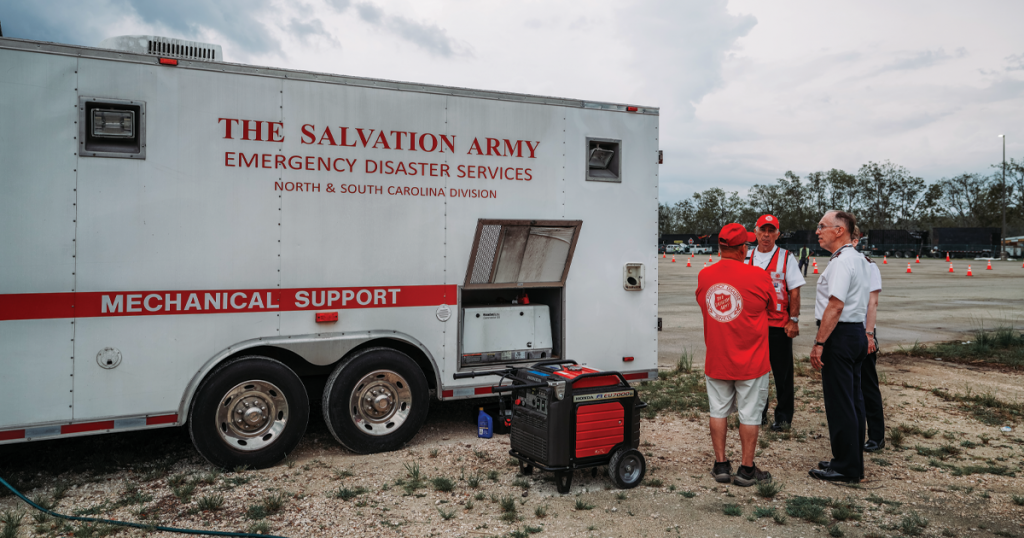 LOGISTICS
Each of the Army's four U.S. territories maintain and upgrade emergency response equipment and personnel are trained and accredited in emergency response and in spiritual and emotional care. The Army's structure provides support to efforts on the ground in the local community. Often regional emergency response services join efforts after a major crisis hits a particular area or locale.
Typically, from 10 to 30 emergency vehicles are put to work in areas most affected by a disaster, this can rise to as high as 100, depending on the scope of the response. Vehicles include mobile canteens and Polaris off-road vehicles so victims cut off from access can be reached. Emergency personnel have used the U.S. Fleet Tracking System since 2018. The tracking devices provide an overview of the location of emergency teams so response can be coordinated and teams rerouted to safely reach people in need of help. Many of the personnel and volunteers come from outside the area to serve. The tracking system is critical as they navigate through unfamiliar landscapes.
Members of the Incident Command team play key roles in orchestrating relief efforts. For Hurricane Ida, the team has been based in Gonzales, LA, with Captain Bradley Hargis of Fort Smith, AR as Planning Chief and Captain Nic Arroqui of Stillwater, OK as Liaison Officer. The Planning Chief manages information and reporting. The Liaison Officer relays information, processes mission assignments and requests resources to support Salvation Army operations. Both Hargis and Arroqui were able to step away from their roles to distribute food boxes and clean-up kits to an underserved population in St. James Parish and pray with those so inclined. "It was encouraging to meet people door-to-door and see how appreciative they are for the outreach in spite of their desperate circumstances," Arroqui said.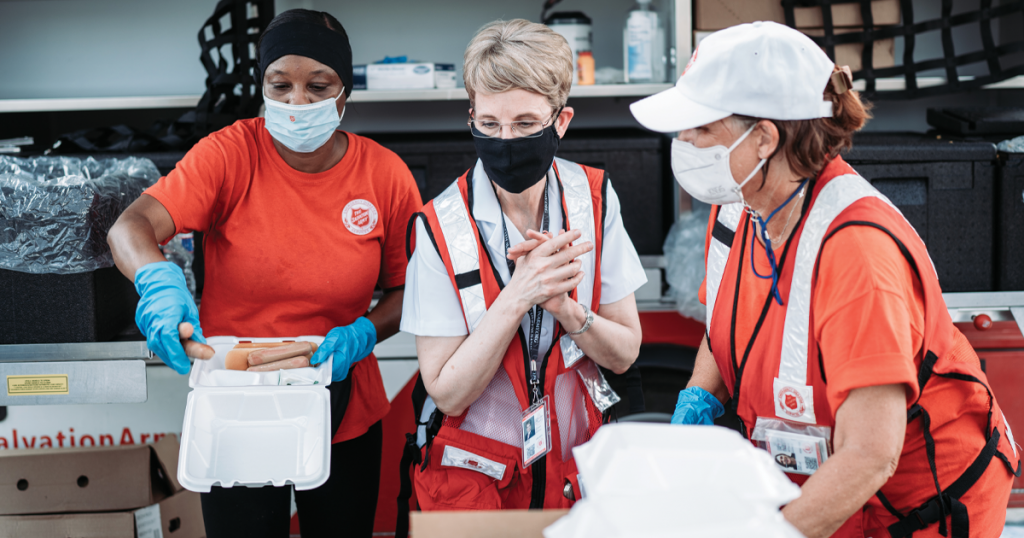 Relief work following a disaster is rewarding. It can also be draining. Arranging for transition of personnel ensures that the Army's core ministries of practical assistance and emotional and spiritual care operate at the highest levels. Deployments of Incident Command teams and crews to operate mobile canteens usually take place at 14-day intervals. In late September, 25 Salvation Army officers and trained volunteers from Georgia were relieved by a second team of 15 volunteers from the state. The first Georgia team had been serving in New Orleans and Gonzalez, LA since August 29th when Hurricane Ida made landfall. The second team served alongside many Salvation Army officers, employees and volunteers from other states already on the ground.
New technology proved critical for real-time readiness and awareness in the Army's response to the Telegraph and Mescal fires in Gila County, AZ in June. Members of the Axon Aid drone team deployed to the fires with the Army's Emergency Disaster Services as part of a new partnership. Axon Aid is the charitable arm of the Scottsdale, AZ-based public safety company Axon. "With the drones, you can see the exact coordinates of someone in need of rescue, and we can livestream right into the Emergency Operations Center," said Axon Senior Manager Bella Giannini.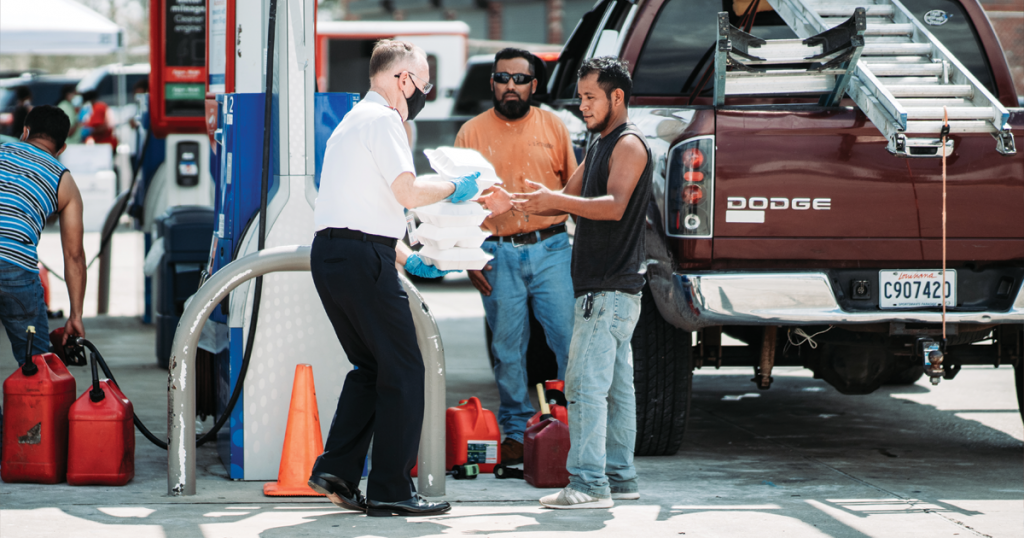 MEASURE OF SERVICE
One measure of the extent of Army Emergency Services is to consider the sheer number of items distributed and the time given in service. Three recent examples are found in the responses to Hurricane Ida, the wildfires in the West and the aid provided to those escaping from Afghanistan to the U.S.
For Hurricane Ida, the Army deployed disaster leadership teams to Louisiana, Pennsylvania, New Jersey and New York, mobilizing more than 55 feeding units to provide food, drinks and emotional and spiritual care to communities most affected. By mid-September, personnel had provided:
393,118 meals
204,736 drinks
104,732 snacks
10,128 cleanup kits
12,424 hygiene kits
3,327 PPE
34,962 hours of service
Emotional and spiritual care to 19,560 people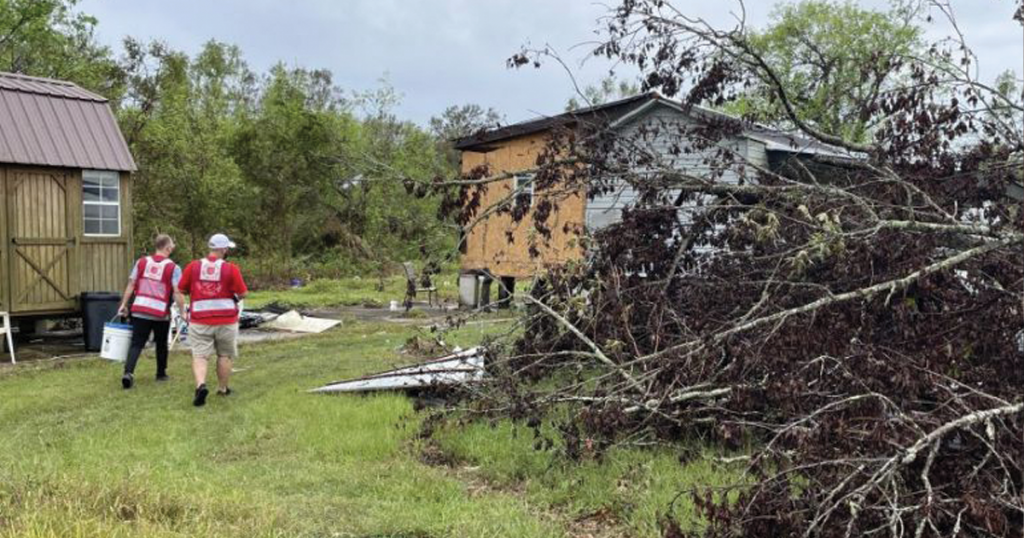 The Salvation Army's Western Territory responded to 27 wildfires across 10 states by August 2021, with personnel providing:
82,728 meals
93,546 drinks
44,856 snacks
602 cleanup kits
7,529 PPE & hygiene kits
26,727 hours of service
Emotional and spiritual care to
611 people
The Western Wildfire Season lasts six to eight months each year, from May to December. This year, wildfires have ranged from small rural incidents fully contained within weeks to some of California's largest wildfires in history, burning for months and threatening heavily populated locations.
As nearly 1,000 Afghan evacuees arrived in the Washington, D.C., region in August, Major Donald Wilson, Corps Officer of the Fairfax, VA Corps was among those greeting them. He had received a call from Virginia Emergency Management officials requesting support for the Afghan men, women, and children who fled their homes with only the clothes they were wearing. The Army provided much-needed emergency nutrition and supplies, and since then has been collecting and distributing items and assisting with their transition.
The Army has used donations to purchase urgent items such as clothing, and infant needs for the thousands of Afghan evacuees stationed at Ft. McCoy and Volk Field in Wisconsin. Funds raised are also being used for ongoing case-management.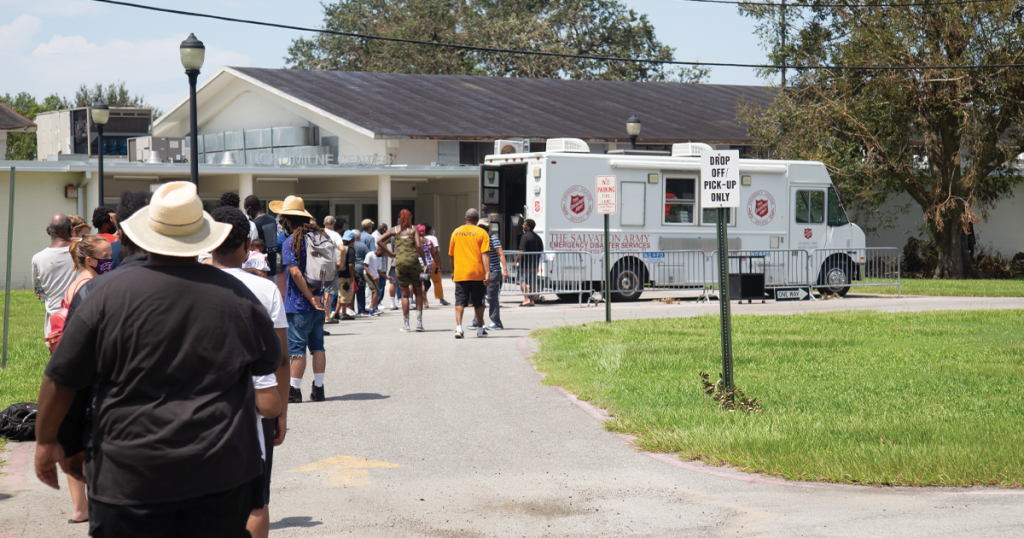 HEART OF SERVICE
Behind the facts and figures of emergency services are the Army officers, personnel and the volunteers who fulfill the Army's mission to care for mind, body and soul and to share the love of God without discrimination. They do so in a myriad of ways, touching individuals, families and communities with reason for hope. Here are but a few of the many instances of service.
Javier Esquival was a U.S. Marine in 2005 when he served in New Orleans after Hurricane Katrina. Sixteen years later, he provided hot meals and encouragement in southern Louisiana from a Salvation Army mobile feeding unit. He says he will never forget seeing a mobile kitchen serving meals to Marines and other first responders in New Orleans after Katrina.
Salvation Army teams visited the historic African American community of Ironton, LA to distribute hot meals, beverages and supplies and to initiate the recovery process. Founded by freed slaves in the 1800s, Ironton has endured hurricanes, flooding and environmental injustice. Many of the residents are related, with some dating back to the first families to settle there. They fought for running water for their community and won in 1980. Through resolve, Ironton's citizens rebuilt their community after Hurricane Katrina destroyed every home. Ironton lacks a wetlands buffer, so flood waters push right in. Army Founder William Booth urged Salvationists to help the least, the neediest and the lost. The Army continues to do so today by reaching those people hit hardest by disasters and who might otherwise not receive aid.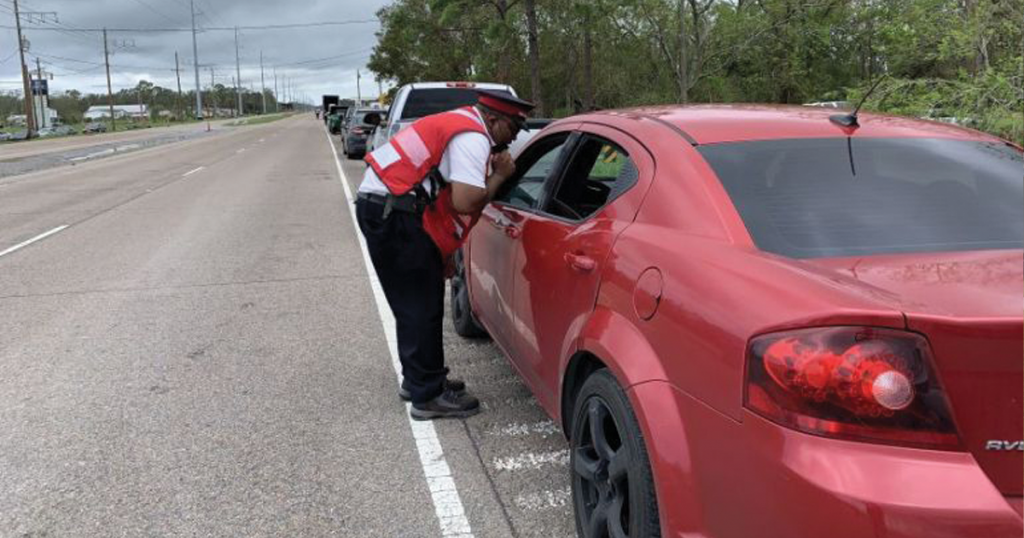 Kevin of Houma, LA, passed out when Hurricane Ida hit and called 911 when he woke up. He was flown to Meridian, MI for care, was in the hospital for a few days and moved into a motel because he was unable to get back home. He called The Salvation Army, desperate for help. Captain Tamara Robb, Corps Officer in Meridian, moved Kevin into a shelter and provided him with food, clothes, a suitcase and a bus ticket home. His bus was sidetracked in Mobile, AL due to Tropical Storm Nicholas. He contacted Captain Robb, who arranged for a ride for the 62-year-old through the Army's Mobile Thrift Store. Kerry, the manager, found Kevin a place to stay at their shelter until he could finally head home.
The Army in Baton Rouge, LA normally prepares three meals a day in the corps' small kitchen for the Corps Salvage Rehabilitation Center, and two meals a day for the Hope Center. For a few days after Hurricane Ida, the devoted staff prepared 2,000 meals a day for the community and for volunteers, employees and Salvation Army officers deployed to the region. Serena Gotch, Food Services Manager, has a special connection with her work. The Army served her family after Hurricane Katrina, and said at the time that she wanted to work for the Army so she could give back. She says her job is an answer to prayer.
Traveling through Plaquemines Parish, LA one sees homes, farmlands and businesses, and after storms like Hurricane Ida, flooding. "When a hurricane hits, things are shifted, shaking, broken down," says Captain Jamaal Ellis, Corps Officer in Shreveport, LA. "Structures crumble, but the foundation is immovable. As Emotional and Spiritual Care officers, we remind people that things may look dismal now, but let me point you back to God, who is with us through every storm, every challenge." That is why in the sweltering heat Captain Ellis walked down the line of cars as people waited to get supplies from the distribution center at Greater Morning Star Missionary Baptist Church. He would lean in to pray for purpose and God's direction, and for needs that the people expressed. "The reality of a disaster…reminds us that the work we are doing is not for us, but for God," he says.