Feature
Seeing Clearly Through MS
"If I live a hundred years, I'll never witness something as faith-filled and awe-inspiring as I saw that night."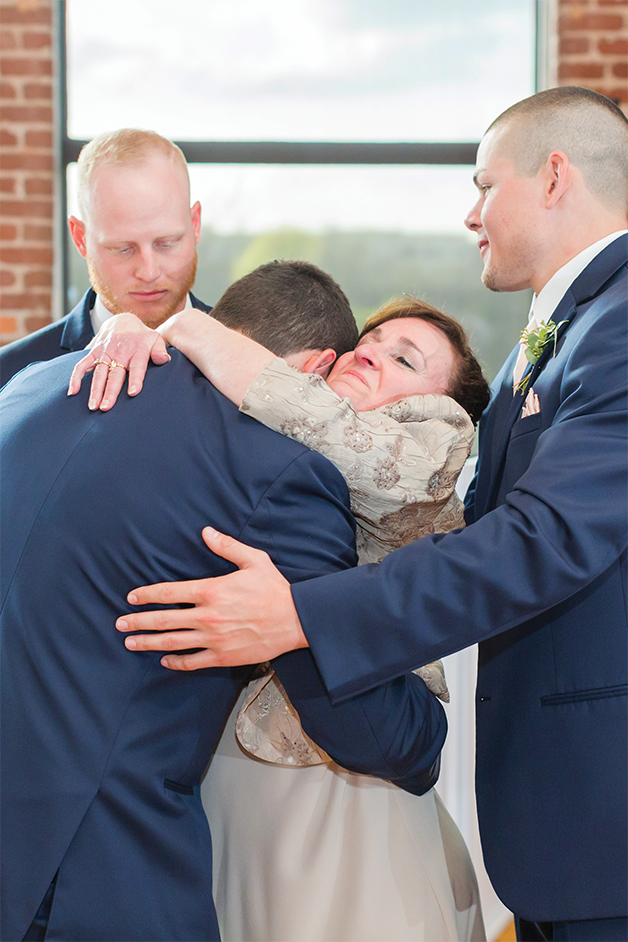 Standing on the edge of the dance floor, I saw the Lord's presence. I felt Him move. I was left awe-struck by His power. There are times in life that you never forget. This was one of those times.
Becky Hooker was in her final year of nursing school. She had been experiencing numbness and tingling in her feet, but when a new puppy had nipped at her sock hard enough to cause significant bleeding without her feeling it, she knew something was wrong. Within a week, the numbness had climbed to her waistline. It was like a belt dividing her in two–normal above and numb below.
A couple of neurologists and MRIs later, she finally had her diagnosis. Becky had Multiple Sclerosis (MS). A disease of the central nervous system, MS causes the body's own immune system to attack the fatty lining of its nerve fibers, leaving scar tissue and disrupting the flow of information within the brain and between the brain and the body. While the severity and duration vary from person to person, MS patients may experience vision loss, pain, joint stiffness, fatigue and impaired coordination. These symptoms gradually worsen over time, coming and going in "relapsing-remitting" cycles.
Over the last 29 years, MS has taken so much from Becky—a naturally soft-spoken woman blessed with an independent spirit and a mile-wide stubborn streak. What started as numbness and a loss of sensation gradually led to severe stiffness in her legs and daily pain and fatigue. She can no longer walk and is confined to a wheelchair. She depends on her husband, Henry, to perform almost all of the household tasks. She requires help with even life's most basic necessities, such as changing her clothes and going to the restroom.
While Becky is powerless to stop the disease that has ravaged her body, her deep faith helps her maintain her beautiful, warm smile, grateful heart and hopeful outlook. According to Becky, "This life affords me the ability to see what is most important—to treasure the countless blessings God has bestowed on us all. I am just able to see them a little clearer than I would if I were still held down by the trappings and the busyness of everyday normalcy. I am blessed so much more than I am not. I've loved God all my life, but there's no doubt in my mind that I would be a different—a lesser—person if I did not have MS."
This attitude and this hope infects everyone she meets. It's impossible to see Becky, confined to her wheelchair, with her bright smile and caring eyes, and not feel hopeful or maybe even a bit guilty for the lack of gratitude for all that you've been given.
She embodies the words of Paul in his letter to the Romans, "we also glory in our sufferings, because we know that suffering produces perseverance; perseverance, character; and character, hope. And hope does not put us to shame, because God's love has been poured out into our hearts through the Holy Spirit, who has been given to us" (Romans 5:3-5, NIV).
When her only son, Nicholas, announced that he was getting married to his long-time sweetheart, Hope, we all shared in the family's excitement of adding a daughter to their brood. In the months leading up to the wedding, as the almost insurmountable fatigue and joint stiffness left Becky bedridden, we prayed that she would be able to attend the service.
As the music played for the traditional seating of the mothers, we were overjoyed to see Henry emerge from the back of the church pushing Becky down the aisle. We looked on as Nicholas and Hope exchanged their vows and promised to love one another with the same duty and devotion exemplified by their parents. But it was after the ceremony, during the traditional groom's dance with his mother, that we found ourselves standing in the presence of the Almighty.
We watched as two groomsmen assisted Becky, one under each arm, out of her wheelchair and across the reception hall to dance with her son. They stayed there supporting Becky as the music played, and she wrapped her arms around Nicholas' neck and danced the proud dance of a mother who had raised a man.
We wept as the two groomsmen stepped back and allowed Becky to rely solely on her son and the power of faith to finish the song.
Becky is a ray of light in a world gone dark. She stands as a resounding counterpoint to the nihilism and narcissism that has infiltrated our culture. She shows us that there is power in gratitude. She reminds us to always count our blessings before we take stock of our burdens.
If I live a hundred years, I'll never witness something as faith-filled and awe-inspiring as I saw that night.

About the Author
Justin Goethe is a freelance writer in Summerville, SC where he lives with his wife and children. He writes for his Christian apologetics blog amillennialsdivinedefense.com. Becky is his second cousin and he's delighted to share her story.
Photo: Ryan and Alyssa Photography