Feature
The Lasting Gift
"All of us can enjoy the lasting gift at this moment. Receive this gift that is waiting for you today."
The gift was placed under the Christmas tree by my parents about a week out from the day when I could open it. I can still recall with great fondness the color of the wrapping paper and the size of the box. Little did I know how significant that gift would be.
I often walked by the tree in attempt to sneak a peek at the package. "Timothy," I would hear my mother call out, "Get away from the tree. You are not touching that present, are you?"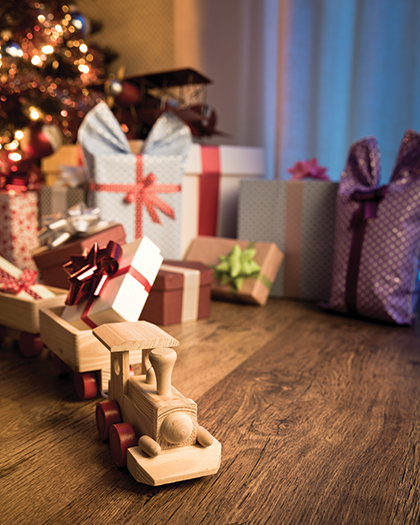 "No ma'am not at all," I'd say back. Unless looking at it longingly is considering touching, I was in the clear. Just a very intense stare down with me and that tempting gift.

Christmas morning finally arrived after what seemed like a long week in eternity. The package was the last one of my gifts I was to open. After my somewhat sincere thanks for all of the other gifts I received, like the obligatory pair of socks and book, it was time for the big unveiling.

I stood up to hold my gift, but it was too big for my little body, so I had to sit down on the floor to open it. Ripping the paper back in a nanosecond, the long-awaited gift was unveiled. In my hands was a Bachman HO model train set. I was speechless.
Model trains and Christmas go hand in hand, like The Salvation Army Red Kettle and the holiday season. What kid doesn't want a model train? That initial train set led me to a lifelong love affair with model railroading. To this day, I love everything there is about this hobby. I have a layout that I work on throughout the year, collecting rolling stock and locomotives and putting together and painting little lifelike buildings. Watching the trains move around the track is one of my places of solace. Instantly, I am taken back to my childhood. My imagination is at play in my fun make believe land.
In the course of time, the whereabouts of that first train set has remained a mystery. I have purchased or have been given replacement trains since then as I pursue my hobby interest. But that initial gift sparked a desire to enjoy model trains to this day.
The greatest gift ever given for all of humanity is what we celebrate this Advent season. God gave us the gift of eternal life through the birth, death and Resurrection of His son Jesus Christ. The power of living a well-lived life, full of hope, peace and joy is simply available at the asking. Putting your trust in the gift of love that is available is as simple as receiving it in faith and opening your heart to God for His grace.
We are reminded of this gift from the prophet Isaiah. "For a Child is born to us, a Son is given to us. The government will rest on His shoulders. And he will be called: Wonderful Counselor, Mighty God, Everlasting Father, Prince of Peace" (Isaiah 9:6).
As much as I enjoy my model trains, I enjoy the opportunity to live a transformed life freely given to me by God. It's not because of what I do, but simply because of who God is and His great love for us. All of us can enjoy the lasting gift at this moment. Receive this gift that is waiting for you today.