Feature
The Spirit of Christ in Caregiving
The illustration of Jesus as a compassionate caregiver is a pattern that, if all caregivers followed,would make the act of caregiving a rewarding experience not only for the patient but also for the entire care team.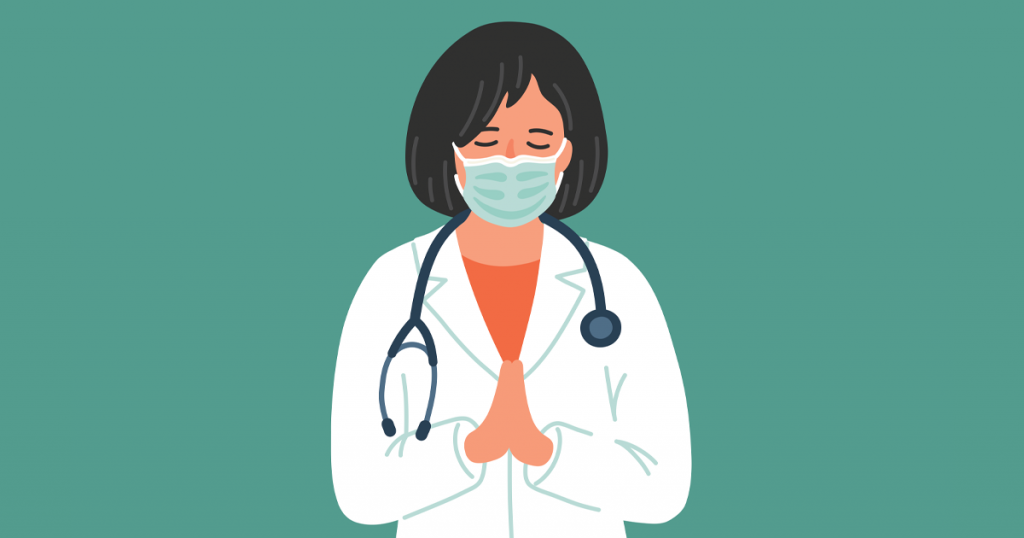 Tonight, I want to arrive at work early. It's a quarter til 11 and I'm on my way to start the night shift at the Meridian HealthCare Center. The tree-lined streets of Huntsville are quiet and soaking wet from the downpour that's been pounding the city for the last three days. Gigantic raindrops bouncing back from the pavement create a blinding fog-like haze before my eyes, but I must press on because the residents at the Meridian are waiting, and I have a feeling tonight will be the night Ms. Leah takes her last breath.
Each room in the nursing home has its unique personality. The first time I was assigned to provide care for Ms. Leah, I remember walking into her room and feeling an overwhelming sense of peace and calm. Everything was organized and clean, and "There is a Fountain," was playing softly in the background. An open Bible was on the chair next to the bed, and the sweet smell of honeysuckle and gardenia from a lavish bouquet on the nightstand filled every corner of her dimly lit room as she slept peacefully under a gorgeous tapestry quilt of many colors.
The Night Ms. Leah Passed Away
After checking in at the nurse's station, I asked the charge nurse how Ms. Leah was doing. I was told that she was not doing well and that her family would take her home in the morning, so I hurried to her room to see her. This time when I entered her room, I saw the tell-tale signs that death was near. Her eyes were fixed. Her breathing was heavy and labored, and I felt a clammy sensation on her skin when I laid my hand across her forehead. As I made my rounds that night, I checked on Ms. Leah every 20-30 minutes to make sure she was comfortable.
At 3:50 a.m., I noticed Ms. Leah's breathing was very faint and shallow. I closed the door, went to her bedside and held her hand. The whole night she was virtually unresponsive, but when I began to recite Psalm 23 in her ear, her eyelids began to flutter, and she began to gently move her head from side to side. I sang "What a Friend We Have in Jesus" to her, then prayed and asked the Lord to please lay her down gently. Still holding Ms. Leah's hand, I calmly said to her, "It's okay, Ms. Leah, you can rest now." Before leaving her room, I pulled the blankets snugly around her shoulders and went into the corridor to continue my rounds.
A short while later, I ran into the charge nurse, and she asked me how Ms. Leah was doing. I told her that Ms. Leah's breathing was very shallow, and she suggested that we go and check on her again. It was 4:15 a.m. when we went to her bedside, and saw that she was gone. Ms. Leah had taken her last breath. Immediately, this thought came to my mind, "The Lord cares deeply when His loved ones die" (Psalm 116:15 NLT).
My Inspiration to Become a Nurse
Before becoming a nurse, I always found myself in the role as the unofficial caregiver for family and friends who had come to need help with their activities of daily living. Since I enjoy providing care for people to enhance their quality of life, I found that the healthcare field was the best place for me to satisfy my passion to help others. Nurses connect with people on a very personal level. Every day, nurses see sick people with diseased and malfunctioning bodies, amputated limbs, and blindness due to diabetes, paralysis due to strokes, dementia, cancer, depression, and a host of other ailments that cause people to feel vulnerable and in desperate need of care.
Nursing and Ministry are Inseparable
I didn't know Ms. Leah before her illness. I met her just three weeks before she died. I learned later that she was the prayer coordinator for her church and a very active member of her community. Knowing that I was able to be at the bedside of a prayer warrior and not only attend to her care but pray with her at the time of her passing gave me tremendous joy.
This experience also taught me the special role that nurses play as a member of the care team. Nurses are most likely the first on the care team to notice changes in the physical and mental health of their patients. Because nurses connect with patients on a personal level, sometimes they become more like an extended family to their patients. I learned a profound lesson the night Ms. Leah died. I learned that nursing goes far beyond caring for the physical needs of patients. Nursing is a ministry.
Angels in the Corridors
As a nurse, it's pleasing to see my patients thrive in their recovery as they receive physical and emotional support that helps maintain their sense of dignity. Since I've worked in healthcare, I've worked alongside many talented and dedicated caregivers who are intentional about providing the highest quality care for their patients. They work long, laborious hours, walking miles within a shift from corridor to corridor, meeting the needs of those who depend on them. I've come to see nurses as more than my coworkers in scrubs, but as angels in the corridors keeping a vigilant watch over those entrusted to their care.
The Spirit of Christ in Caregiving
Today's nurses undergo a rigorous academic process to become skilled healthcare professionals and acquire licensure. The training includes extensive studying of the sciences such as chemistry, anatomy and physiology, and pharmacology. It also involves a full sequence of other academic disciplines designed to produce highly qualified nurses who can meet the demands of the ever-evolving healthcare industry. I found the training extremely important in becoming a healthcare provider. It taught me not only how to provide for my patients, but also that the spirit of Christ must be in the work.
Caregiving has its rewards as well as its stresses. It can be a challenge for anyone responsible for caring for sick people every day to maintain a pleasant attitude. To cope with this reality of nursing, I resolved to follow the example of the great comforter, Jesus Christ. In Matthew 14:14, the Bible shows how many people came to Jesus in desperate need of healing from a plethora of ailments, both physical and spiritual. The Bible says when He saw their suffering, He was moved with compassion and He healed them.
A Caregiver's Reward
The greatest joy I've received from working as a caregiver is to hear patients and their families express how much they appreciate the care I provide. It's an honor to see that the care I provide makes a difference in their overall wellbeing. The illustration of Jesus as a compassionate caregiver is a pattern that, if all caregivers followed, would make the act of caregiving a rewarding experience not only for the patient but also for the entire care team. 
DeBorah Green lives in Huntsville, AL.